Page Menu
.
San Luis Valley Paranormal Activity
.
More on UFO Watchtowers
.
Rio Grande River Ranchos Satellite Image
.
UFO Watchtower Web Site
.
UFO Video Downloads
.
PARAseek.com - The Paranormal Search Engine
.
Christopher O'Brien's SLV UFO Event Log
.
Our Strange Planet!
.
Hundreds of UFO and Paranormal Links verified 2013.
---
---
QR code matrix - scan with phone goes to SLVUFO (right click to save)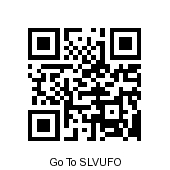 Unexplained Sightings
in the San Luis Valley of Colorado
Over the years there have been numerous unexplained UFO sightings in the San Luis Valley of Colorado. Perhaps it has something to do with experimental aircraft testing by the Air Force or maybe we really are not alone and they have selected this unique geographical area as a meeting or testing ground. Research has exposed a large number of articles and web sites relating to this phenomenon.
The SLV is now being called the "New Area 51". There is information that a UFO observation tower has been built by private individuals, TV documentaries done on the area and even books have been written. Military Aircraft have been flying over the SLV on routine missions for several years, even to the point that some groups in Crestone, Colorado have complained about the disturbances to the peace. Crestone is nestled at the base of the surrounding mountains and perhaps that acts as a sounding board to the flights as in other areas of the SLV there seems to be no problem with such things. Anyone who has watched the night sky in the SLV will most likely tell you that you can see a lot of activity among the stars, be it falling stars, comets, meteor showers, satellites or something else. Perhaps it has to do with the clean, crisp night air or the altitude of the SLV. Regardless, it makes a wonderful place for observing the stars and planets at night.
---
Share this page on your favorite Social Networks
---
.
---
---
---
---